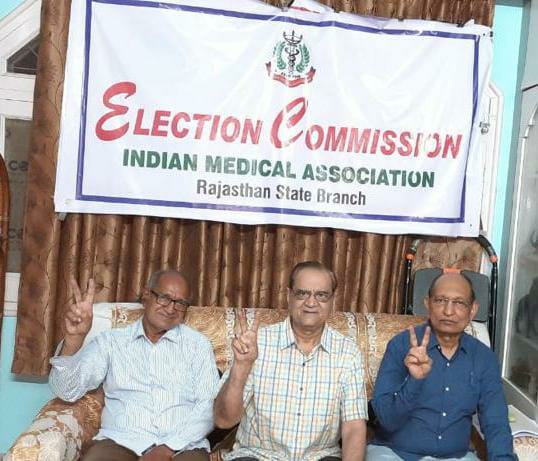 Chief election commissioner Dr S. N. Harsh with two Associate's Dr. Mahesh Sharma and Dr. B. D. Sharma
Dear
Member Greetings from Election Commission I.M.A. Rajasthan State Branch. 
Which has come in force vide letter no Raj/2020/21/130 Dated 22.221 issued by State Secretary. As the state council is not existing in our state hence the election will be held by commission. 
The first meeting of election commission was held on 18.03.21 under the chairmanship of chief election commissioner Dr. S.N. Harsh. Both election commissioners Dr. Mahesh Sharma and Dr. B.D. Sharma were present. 
Following decision were taken. 
1.The election commission will appeal to all life members of state I.M.A. to take active part in the election. 
2.The official whatsapp group of state I.M.A. of President and secretaries of local branches will be used for general information. 
3.Local branch Presidents and Secretaries are requested to inform their branch members about all general information's sent by election commission. 
4.The election will be held as per new constitution which has been ratified by 223rd C. W.C. on 20.12.20 and has been approved by Hony. Secretary General I.M.A. HQ. 
5.The E.C. will organise zoom meetings of President and Secretaries of local branches to explain the main featurs of new constitution.6.The E copy of constitution and voter list will be sent to all Presidents and Secretaries of local branches, tor onword transmission to their branch members.
Election Commission I.M.A. Rajasthan Letter No. 1
Election Commission I.M.A. Rajasthan Letter No. 2

Election Commission I.M.A. Rajasthan Letter No. 3

Election Commission I.M.A. Rajasthan Letter No. 4

Election Commission I.M.A. Rajasthan Nomination Form

View Letters in Download Section
The new common language will be more simple and regular
than the existing European languages. It will be as

Nelson Adam
Let our investment management team
Sed ut perspiciatis unde iste natus

Maecenas tempor velit sit amet euismod

Nulla egestas iaculis metus, id tempor massa

Nulla egestas iaculis metus, id tempor massa

Maecenas tempor velit sit amet euismod
vitae lobortis eros purus non augue. Nullam molestie augue diam, scelerisque porta dolor mollis a.Cras condimentum elementum eros at finibus. pharetra condimentum sagittis. Donec